Fundraising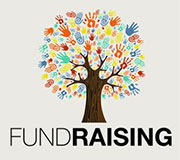 The Downswood community association is a registered charity (No: 298218) and we have an ongoing programme of fundraising events to raise funds for the upkeep of the Downswood community centre.
Although the centre is owned by Maidstone Borough Council, it has been leased exclusively and managed successfully by volunteers from the Downswood community association since the opening in 1990. We receive no regular funding or grants and the centre runs on hiring fees and fundraising only, which is why we are always looking for support. We also have the headache of day to day maintenance, repairs and renewals, all the insurances and licences and normal utility bills, (yes, we have to pay those too)! Our latest fundraising venture is for our loft storage project, to increase storage space at the centre for many of our regular groups.
We have a team of fundraisers who organise fundraising events throughout the year and we are always looking for new members to join our team, it can be fun but also hard work at times. New members can mean new ideas and suggestions. If you are interested in joining us please give us a ring: 0770 815 0613. Don't worry, we are not a bunch of old strange people who sit around with clip boards, (OK some of us are getting old …………. and maybe a bit strange), but if we didn't have fun or enjoy it - we wouldn't do it! As a volunteer you can give as little or as much time as you like, plus you would be giving something back to YOUR community.
We have our biggest fundraising event of the year in June – the Downswood summer fete. This is when we have hundreds of local people come along to the centre and enjoy an afternoon of fun for all the family, activities, stalls, food, and music - something for all ages! Unfortunately this doesn't just happen, we have to plan it and run it and we always need help before, during and after this big event. Please don't forget, if you are interested in helping us in any way please give us a ring: (John): 0770 815 0613 or (Diane): 0795 831 5073.
Latest fundraising events:
On 23rd February 2019 the DCA were very kindly awarded £1500 from the KCC 'You Decide' scheme towards the cost of new chairs for the hall - Many thanks to Gary Cooke & his team.
Saturday March 16th 2019 (Yet another) Downswood Quiz Night was held at the centre where eighteen teams battled it out & helped us raise £654.43 towards the upkeep of the centre.
Congratulations to the winning team 'Should have gone to Specsavers' & bad luck to the team who came last who will remain anonymous. Thanks to everyone for your support.
Please see the 'Whats on' page for our next fundraising event.